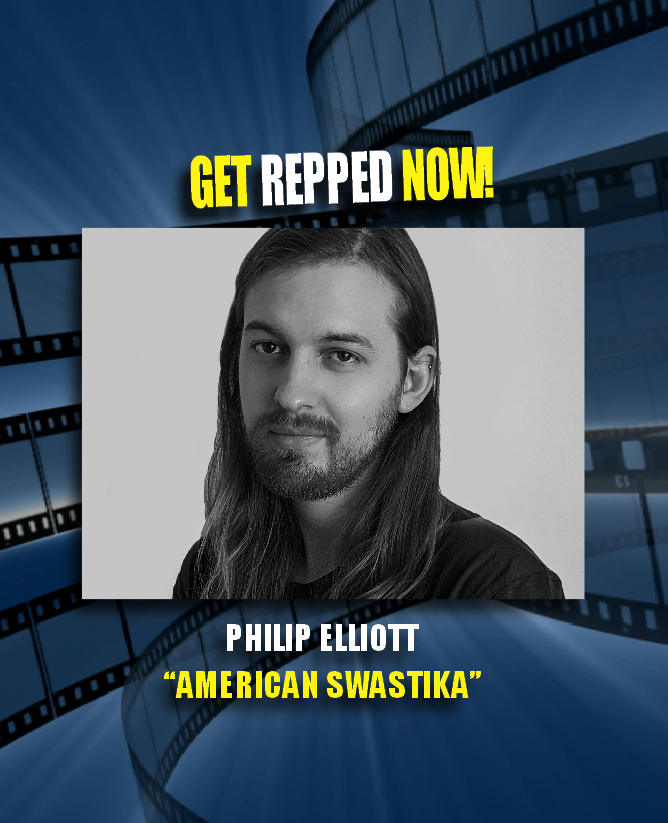 When a Los Angeles family man's secret neo-Nazi past resurfaces, to avoid life behind bars he must become the man he swore he never again would be and infiltrate a white-supremacist terrorist organization before it seizes the White House.
Let's hear it for our second consider of 2023: Philip Elliott's thriller pilot AMERICAN SWASTIKA, which he adapted from his own novel.  "I worked so hard on that script specifically for this opportunity, and it's quite the shock to have actually achieved it," said Elliott.
.AMERICAN SWASTIKA has been gathering kudos, including making Coverfly's Red List, and we can't wait to introduce this former "drummer for bad punk rock bands" turned novelist/screenwriter to our industry panel.
"I like to say I write 'punk-glazed neo-noir rooted in complex characters and blend this style with drama, thrillers and horror," said Elliott. "Essentially, I write thriller/crime/mystery/horror/dark-drama stories, and sometimes a blend thereof, about outsiders and outcasts, misfits and rebels. Those on the fringe. The broken. The forgotten. My protagonists are often flawed antiheroes, and, in the noir tradition, 'right and wrong' — morality — is often obscured within shades of gray."
Elliott says that his writing explores damaged people yearning for connection in a hostile world "who are forced to face their worst fears, be those demons from their past, demons of a corrupt society or system stacked against them, or, every now and again, literal demons."
Ireland-born and now living in Vancouver, Elliott has been writing since he was nine years old — a crime/thriller novel, so he's told. But his biggest inspiration was Denis Johnson. "At 21 years of age, I read Johnson's Jesus' Son, and it punched a hole through me. I knew right then I had to learn how to do that, too."
After years of submitting short stories to literary magazines, he eventually founded his own magazine, Into the Void, which ran from 2016 to 2021. "I published two neo-noir mystery novels, in 2019 and then 2021, and sometime in between those novels I found screenwriting — or perhaps it found me." Elliott calls screenwriting, "by far the most challenging craft I have ever pursued, but it is also the most thrilling, most frustrating, most satisfying, most heartbreaking, and the most rewarding."
Congrats, again, Philip, and welcome to the consider circle.

                                                                                                                                                                                                                      .
ARE YOU NEXT? Enter Get Repped Now today!