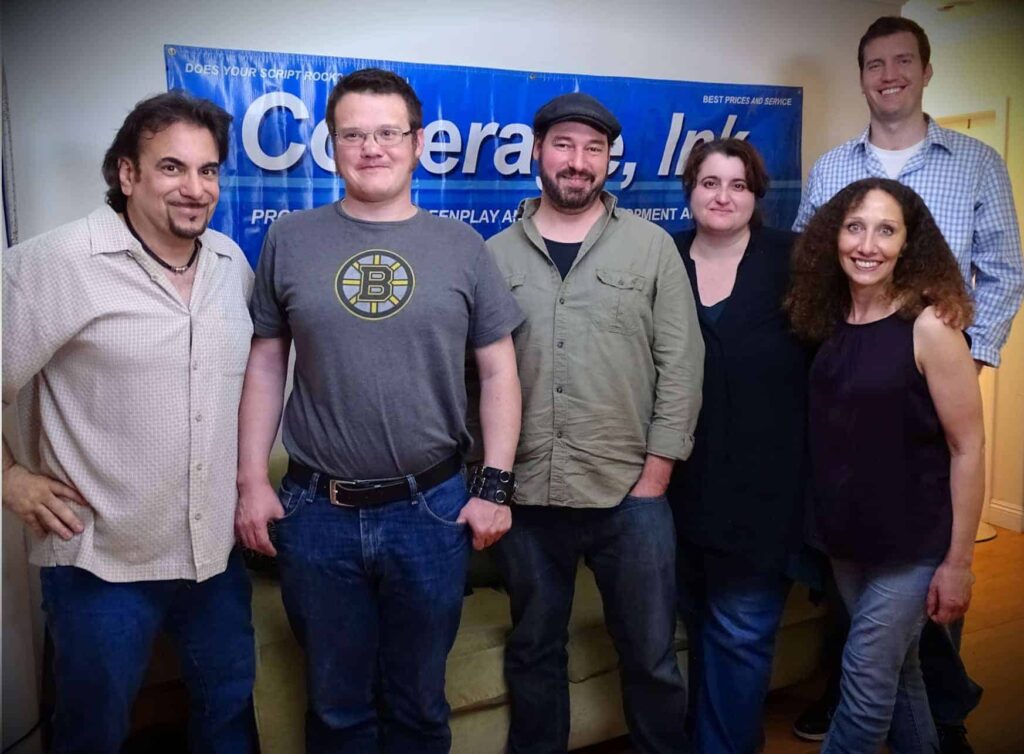 Who reads for CI? The very nature of their jobs demands anonymity. We cannot divulge who our readers are, but they are degreed, working industry professionals with strong development skills and thousands of scripts and coverage reports under their belts. They have worked for big production companies with studio deals and indies alike, and for several of the 3-letter agencies.
Minimum requirements for a story analyst at Coverage Ink includes a degree in film and/or screenwriting and at least one year experience working for a reputable agency, production company or management company. As well, readers must pass a test and a "shakedown cruise" wherein we compare their analyses against our senior readers to make sure they not only can see both the big picture and the minutiae but also that they have the ability to convey their ideas in a clear and informative and empowering way. We don't let anyone loose on a script until they survive the gauntlet and prove they've got the goods.
And don't worry, with Coverage, Ink. your work will remain anonymous. Coverage, Ink. will never expose your script to anyone.
Here are mini-bios of some of the Coverage, Ink team. Please note that CI assigns readers based on genre and availability. It is not incumbent upon the writer to select your reader. At any given time, some readers may be unavailable, or we may have new readers whose bios are not yet listed below, or a reader may be burnt out and not want to read a certain type of material for a while, etc. Thank you!

Coverage, Ink. The Industry Experts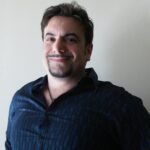 WGA member Jim Cirile (JC) is the founder and owner of Coverage, Ink. For a decade, Jim covered the biz with his Agent's Hot Sheet column for Creative Screenwriting magazine. As well, he was a regular contributor to Script magazine. With over two decades experience in screenwriting, development and production, Jim has sold, optioned, rewritten or written for hire a plethora of scripts and enjoyed a multipicture studio deal (Lionsgate.) Jim has a certificate in screenwriting from the UCLA Professional Program and may be the only person in history ever to rewrite the Coen Bros. (the unproduced "Guido.") A former writer for "Weekly World News," Jim is mostly focusing on consulting, mentoring and script doctoring lately while producing original genre-oriented feature film projects through Coverage Ink Films. He is the co-creator along with Tanya Klein of the upcoming animated horror feature Malevolent, starring Morena Baccarin, Ray Wise and William Shatner.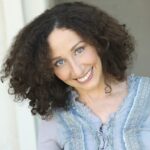 Tanya Klein (TK) is a partner in Coverage, Ink. She has wide-ranging experience in both film and theater. She spent many years in NYC as a writer/director where her plays have been seen Off-Broadway, as well as in international festivals like FringeNYC. She also spent the better part of a decade as Artistic Director of a theater company where she directed and/or produced close to a hundred productions and conducted writing and directing labs. On the film side she has a slew of produced shorts to her credit (as well as straight to web fare) and is a writer/Exec Producer with Coverage Ink Films. She is the cowriter and co-executive producer of the upcoming animated horror feature "Malevolent" starring William Shatner, Morena Baccarin, and Ray Wise. She loves all genres but has a particular love of indie and geek-centric fare.

Senior CI analyst AS is a multi-award-winning screenwriter who also hails from the UCLA Professional Program. She works professionally as a script doctor and contest coordinator and she reads or has read for CI, Scriptshark, Script Alley, Slamdance, New Regency, Senator Entertainment, and many contests. Wonderful with character, structure and especially dialogue; loves all genres. And by the way, she's both incredibly insightful and tough as nails.

Chicago native JT is a senior CI story analyst and a line producer for big name commercials, but his passion is writing. JT has been writing and reading scripts for two decades. JT's eye for detail is second to none. He has also read for the Gersh Agency, Lorimar and New Line Cinema and is a Writers Boot Camp alumni. A genuine movie nut, JT loves sci-fi, sports, Western, and genre films, and has encyclopedic knowledge of pretty much every TV show ever.

Senior CI analyst BF is an optioned and produced screenwriter, and has written or ghostwritten over 20 feature-length horrors, thrillers, and dramas.  As a writer/producer, his short horror/TV pilot has screened internationally at over twenty festivals, winning best short film, and placing as finalist in multiple television festivals.  He has won grand prize in The Writer's Network competition, been an official selection in the Tribeca Film Festival All Access program, and been a finalist in the Sundance Writer's Lab, Slamdance, and Project Greenlight. He has written coverage on over 800 screenplays and teleplays, including pre-production screenplays, and scripts by Academy Award nominees and leading contest winners.  He currently reads for several indie NYC film production companies as well as CI.

With a B.F.A. in Film, KO is a repped WGA writer who has optioned several original screenplays, including one to Sony. He recently set up a TV pilot at CBS/Paramount and is shopping another. Worked as reader for Phoenix Pictures as well as various websites dedicated to helping writers develop their material through coverage and development notes. KO has sold several TV pilots and is a working, represented TV writer. Loves quirky, unusual or noir material as well as action/adventure and studio-style films.

As a former assistant at a motion picture lit agent's desk at ICM for almost three years, EY read "about 1.5 billion" scripts (his words) and recalls even though he had weekends off – he didn't really. He left in 2007 to become a writer's assistant on a 1-hr dramatic TV show and later became a staff writer on that long-running show. EY is now a represented, working TV writer, is cutthroat when it comes to grammar and structure and is more studio guy than indie.

Hailing from the UCLA Master's Program in Screenwriting, SH has won numerous awards including the Harmony Gold Excellence Award and the Jay Grossman Comedy Writing Award. He works as a screenwriting tutor for UC Irvine and has designed online screenwriting courses for UCLA. As a story analyst, he has worked for Storm Entertainment, Sidney Kimmel Entertainment, Concorde-New Horizons, Award-Winning Screenwriters and ScriptPIMP, among others, and he also works as a writer/copy editor on magazines.

LO hails from DreamWorks Animation's story department, where she has worked since 2005. Her recent credits include every monstrous animated hit DreamWorks has ever made. She has also worked in development at three other production companies and graduated Magna Cum Laude from BU. Strong on comedy and character, LO is our animation expert.

RD graduated with a B.A. in English Literature from The University of Massachusetts and began a career as a newspaper reporter before moving to Los Angeles to earn his M.F.A. in screenwriting from Loyola Marymount University. On the production and development side he has read for Phoenix Pictures and Artist International. His agency experience entails reading for International Creative Management, and work in the literary department at both Metropolitan Talent Agency and The Agency for the Performing Arts.

JS has a degree in English as well as a BFA in film. In addition to working as a writer/producer in the film industry for over 15 years, JS has also worked with the Sundance Institutes Directors Lab for over a decade. He teaches film production and writes professionally in a number of different mediums from screenplays and teleplays to graphic novels and prose. He offers gentle patience, cutting insight and creative solutions.

A story analyst since 2009, EC has read for producers and writers all over Hollywood and the U.S. EC holds an MFA in film and screenwriting from BU with supplementary backgrounds in production, fiction, and playwriting. Not only does EC love to dissect story to see what makes it tick, he holds a special affection for those stories that strive to stand above the rest through excellence and creativity, no matter the genre.

With an MFA in Screenwriting from Loyola-Marymount, SC is an award-winning screenwriter who has been doing coverage since 2003 for companies like ICM, Mel Gibson and Denzel Washington's companies, Evergreen Studios and Participant Media. He currently teaches screenwriting at the university level.

LH studied film at Emerson College, then earned her Master's in Screenwriting at Boston University. She is a freelance writer and works as a story analyst for the Gersh Agency.

A graduate of USC's School of Cinematic Arts and a writer for well-known online news/entertainment sites, GW has read for Paramount and CAA, worked many industry jobs, and once hit Morgan Freeman with a door (by accident). Writing experience includes over a million words published plus a scary amount of script doctoring. Loves films from micro-budget indies to huge studio movies, providing first and foremost that the screenplay works!

KC has studied writing for film and television at Boston University and UCLA.   She's been a professional script analyst for over six years with companies such as Final Draft, Slamdance, and Coverage Ink, among others.  A produced playwright, she has had works produced in America, Britain, and France (in translation).

UK-based MG has worked as a script consultant for various indie production companies and for countless individuals. She's read for the London Screenwriters' Festival, the Underwire Festival, Just Effing Entertain Me, the Nevada Film Office, NYC Midnight, New Writing South and The Film Festival Guild. She reviews movies for Raindance Film Festival and has been a contributing editor to the Universal Film Magazine and What The Dickens? magazine. She has had various short films and stories produced and published while building up her own consultancy business.

Born and raised in Texas, DS(2) received a degree in Creative Writing & Motion Pictures from the University of Miami before completing his MFA in Screenwriting at the American Film Institute.  Since then, his Hollywood journey has taken him from working for major studios, to developing independent film projects, to teaching screenwriting, and everything in between.  Currently working as a professional writer in both features and television, DS loves to cut to the heart of a any script and help draw the most unique, honest, and compelling story to the surface.

LA-based producer and development executive DW has worked for Lionsgate, selling the rights to Academy Award winner CRASH and several installments of the SAW series, as well as at Universal Pictures and Warner Brothers. He has helped develop projects such as BATTLESTAR GALACTICA and STAR TREK (2009.) DW brings a personal love of graphic novels, a passion for manga, and the desire to adapt both for the screen.

KS graduated with a degree in video production and a concentration in screenwriting. Since moving to Los Angeles he's worked at multiple top tier literary management companies over several years, collaborating with managers and producers on various film and television projects. Additionally, he's worked for The Scriptwriters Network, The Great American Pitch Fest, USC First Pitch and The New York Film Academy Pitch Fest.

Originally from the east coast, but now resides in Los Angeles, MG is a repped writer who got his start on the production side of several primetime television shows. Eventually, he became a writers' assistant on a sitcom for TV LAND. Also, he's produced several indie horror features and has written and produced a comedy pilot presentation for a major studio. He is strong with 1/2-hr comedies and genre fare in particular.

CD earned his MFA from the Tisch School of the Arts at NYU and is a member of the WGA. Primarily a television writer, he has been staffed on three one-hour dramas and has developed with many production companies and studios. On the feature side, he's co-written a feature for Warner Premiere. As a reader, CD gives the scripts he covers the same, all-out effort and consideration he gives in the writers' room.

An award-winning screenwriter, essayist and critic with a special passion for the action and crime genres. He has written on film for the National Film Registry and is the co-author of a best-selling book on screenplay structure. ML grew up in Pittsburgh and resides in Burbank, CA. Favorite films include GOODFELLAS, DIE HARD, JFK, and WHO FRAMED ROGER RABBIT.

After receiving his BA in Film from Columbia College, MK interned at the Bruce Brown Literary Agency, where he learned the ropes. After a 7-year stint as Senior VP of Development at a now-defunct management/production company, he founded his own management co., which he ran from 2009 to 2015. He is now a director/producer and CEO of his own prodco with a bunch of features set up. He has read for Final Draft/Big Break, PAGE Awards, Horror Equity Fund and Script Xpert, and his favorite genres are horror, thriller, action and comedy.

AF is an award-winning, produced screenwriter/producer. She has worked/read for companies including Sundance, Slamdance, several well-known fellowships, and does regular consultation/rewriting work for indie prodcos. Her tastes range from geek/genre to period drama and everything in-between. Also strong on the TV side, her favorite shows include Stranger Things, Daredevil, Buffy the Vampire Slayer, and Homicide: Life on the Street.

BN is a former Director of Development for a well-known film actor's production company. She has read for Slamdance since 2001, PAGE for several years, many years at Film Independent, and also for CAA, Fox, and currently for Gersh. She is a tough, no-nonsense generalist who is very good about succinctly explaining what works and what does not, and offering specific and concise suggestions for improvement.
CB has read for prodcos including DiNovi Pictures and for several major script competitions and coverage services since 2014. She has written a studio-produced web series and taught screenwriting classes at the collegiate level. Her favorite genres are comedy, horror, horror/comedy and drama.

LR is an avid horror and genre movie fan, bookworm, and movie lover with years of experience in both development and production. LR has a BA in Cinema and Media Studies from USC and has worked for companies like Blumhouse and Amazon, as well as Paradigm Literary Agency and Circle of Confusion. LR is a storyteller by nature and loves helping fellow creators breathe life and craft into their ideas.

In addition to working in writers' rooms for both Disney and Netflix, KH has done script coverage for both prodcos and coverage services for the past few years. His favorite genres include thrillers, drama, and any type of comedy.

A former story analyst for Amazon Studios and Scott Rudin Productions, as well as a former Development Associate for The Content Farm, SG specializes in TV and feature story development. She loves good stories well-told in all genres, and has a particular passion for psychological thrillers, historical fiction, YA drama/romance, Southern Gothic, and novel adaptations.

JH has experience reading for Di Bonaventura Pictures, Paradigm Talent Agency, and Media Talent Group. He loves all kinds of movies, especially action, horror, and… musicals. He studied film at Kenyon College.

Over 17 years of script experience, both as a creator and an analyst. TL hails from NYU's Tisch School of the Arts with a BA in Film & Television production and has read & provided coverage for hundreds of scripts for entertainment companies such as MGM, Anonymous Content, Miramax, and AGBO, among others. His preferred genres are horror, comedy, sci-fi, and thrillers, with his favorite movie of all time being GHOSTBUSTERS.

MS earned his BA in Creative Writing from Emory University and has read for The Gersh Agency and StudioCanal. His favorite genres include drama, thriller, dark comedy, and literary adaptations.

TA graduated from USC with a B.A in Theater and a minor in Film/Television. He has done script coverage and creative consulting for Lonetree Entertainment and Fábrica de Cine, was the creative assistant to a well-known director and is an award-winning screenwriter. His favorite films are Sideways, Gladiator, and Boogie Nights.

RR is a writer, teacher, published author, and script reader/consultant. He teaches screenwriting at a US Midwestern university. He has mentored hundreds of students through the craft of screenwriting, several of whom have gone on to sell or produce their scripts and win awards. He has worked for Scriptapalooza, Bluecat and Project Greenlight, among others, has provided coverage and development notes for hundreds of feature screenplays and TV scripts and has mentored writers on an ongoing basis, resulting in three produced feature films.

Since 2014, TS reads/has read for Amazon Studios, Stage 32, and numerous screenplay contests and film festivals. In his production background, he has worked as a director, editor and cameraman for CBS in Rhode Island and ABC in New York. he has studied screenwriting and advanced screenwriting at Gotham Writer's Workshop. A voracious cinemaphile and student of the craft, his favorite genres are drama, comedy and sci-fi.

TP is a screenwriter, creative producer and published humorist living in Los Angeles, CA. He graduated Dean's List with a degree in Film & TV. He has written and produced for ABC/Disney, Mashable, Verizon, Eko, and Comedy Central, and he has also been a writer's assistant for TV and videographer for Greenpeace.

SD has worked in development since 2010. He began his career as an intern at Paramount Pictures, where he learned film development at The Robert Evans Company, (The Godfather, Rosemary's Baby, Chinatown.) He is currently a story analyst/development consultant for studio pros connected to Paramount, Sony Pictures, and Lionsgate and has had a key development role in a handful of online streaming channels and shows. SD also serves as a personal mentor and guide to many up-and-coming writers.

DW is a Hollywood-based story analyst/screenwriter/director/editor. Since moving to Los Angeles in 2016, he's read for Paramount Pictures, Hyde Park Entertainment, Safehouse Pictures and Final Draft, among others. He has a BA in communications and digital media and is repped by Better Management.

STM has worked in film for the past 25 years. He is a produced screenwriter and worked in script development for director Jan DeBont at 20th Century Fox for over three years. He has developed, produced, and directed several indie projects. He now teaches screenwriting seminars and is the co-creator and co-editor of a website devoted to film analysis; given enough whiskey, he will go to the mat arguing that REPO MAN is the finest film ever made.

A graduate of USC's School of Cinematic Arts, MB was the star pupil in a screenplay analysis class taught by CI's own senior story analyst BN. He has over five years industry production and development experience. "I have been an avid writer and movie lover my entire life, and have always had a passion for screenwriting. Creative writing is where the magic begins." His favorite genres are thriller, mystery, action, horror, and dark comedy.

With a Doctorate in Musical Arts, LG is also a gifted screenwriter. In 2022 she won a major screenwriting contest and fellowship. She has been a finalist and semi-finalist in 12 contests including top 3 in Final Draft Big Break, and has won two screenwriting grants. A former NYU adjunct instructor, she currently writes for Screen Rant and other online publications about pop culture. She loves TV 1-hr drama and on the feature side, drama, dramedy, animation, and historical/period.

With a background as a writer's assistant and script coordinator at Netflix, TFN is also a screenwriter whose work has made the BloodList, as well as Best Feature Screenplay in the Los Angeles International Screenplay Awards. He loves both TV and features, indies and studio projects, and his favorite genres are horror, drama, sci-fi and fantasy.

AM is a Disney/ABC writing program grad and a 15-year veteran of 1/2-hour TV comedy, both as a staff writer and producer on numerous shows for AMC, ABC, Netflix, and more. He grew up in Virginia, has a BA in English/Creative Writing, speaks fluent Mandarin, and is also a singer, comedian, novelist, and "comedy nerd and pop culture junkie." He currently lives in Los Angeles.

XR trained with one of CI's senior story analysts and is one of the highest-rated script reviewers on Coverfly. He also reads for several well-known screenwriting festivals and is a senior reader at one of the biggest screenplay competitions (which he cannot name). He has a doctorate in Music Arts and is a published author of books, plays, poems, peer-reviewed articles, book reviews, program notes for CD liners and Carnegie Hall. He has sold and optioned 13 screenplays and has won 44 screenplay awards to date.