GET REPPED NOW! RETURNS APRIL 4, 2022

So far, two of our considers have gotten signed from GRN 2021, with another still pending.
In 2022 we're aiming even higher. So write a new feature or pilot and get ready to kick gluteus.

More to come…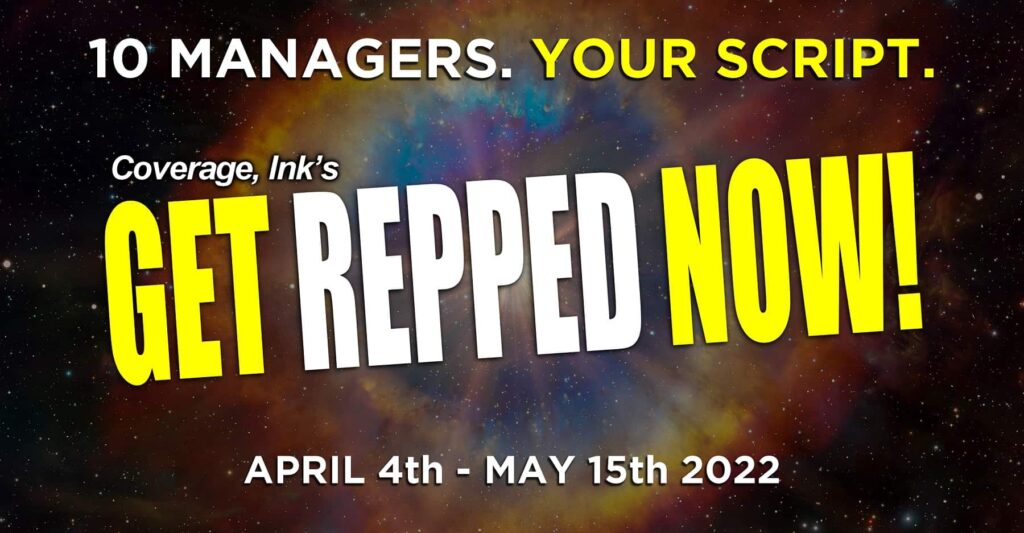 Watch our blog for updates and announcements. 


A great manager is what every emerging writer needs. They work with you to develop and hone your material and craft, they introduce you to the town and partner you with producers and agents. In short, they are often the key to breaking in. We want to present your material to them with a big, shiny "consider" from us.
We've got nine top literary managers and one agent on board, all looking for the next great screenwriting voice.
Ten reps. Your script. Let's do this. 
MEET THE 2021 MANAGER/AGENT PANEL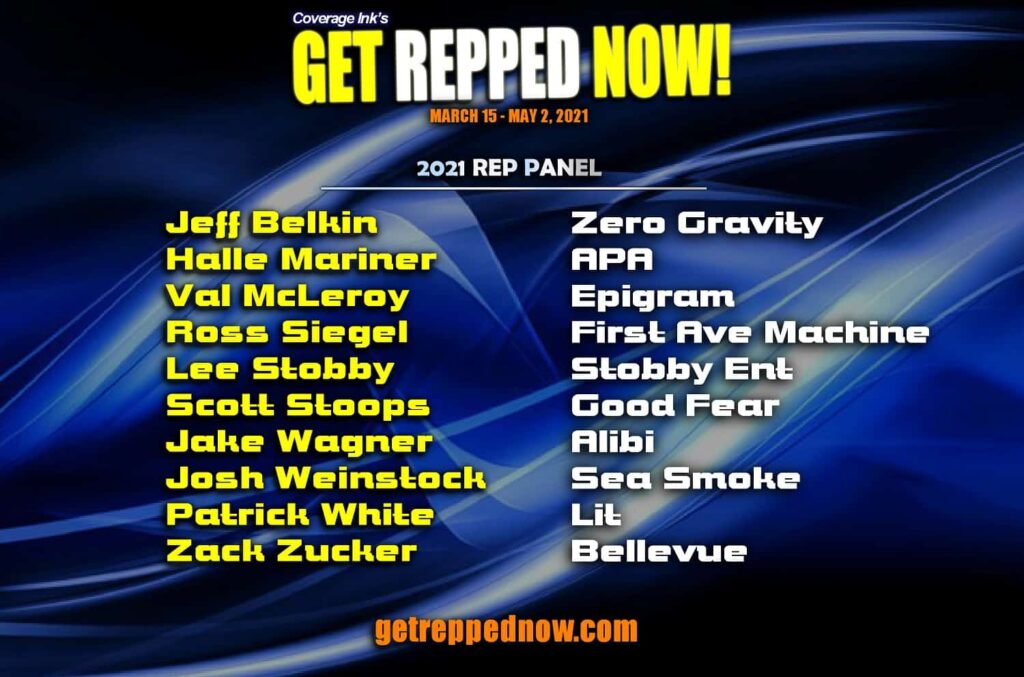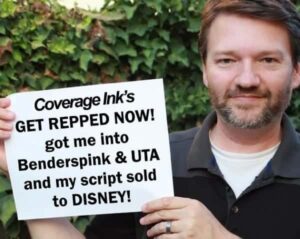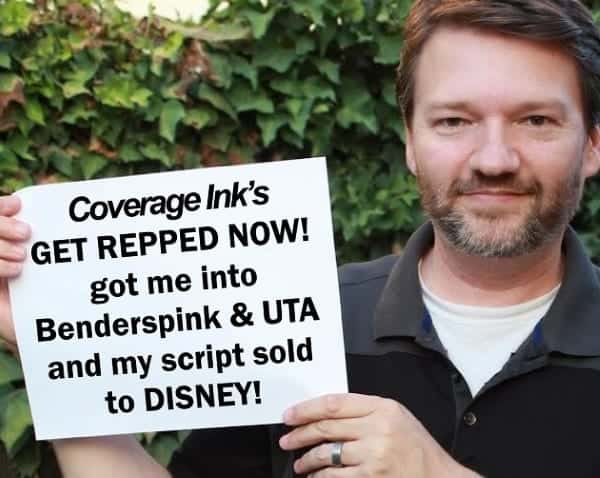 Welcome to Coverage Ink's GET REPPED NOW, where we make careers happen and introduce you to the top literary managers in town. We've gotten dozens of writers read by our management panel, which has resulted in meetings, writers working with managers on developing new material, writers signed to UTA and Benderspink and Good Fear, and even a big spec sale, when manager Jake Wagner sold writer Brandon Barker's script "Nottingham & Hood" to Disney for six figures.
"Coverage Ink is what started it all!" enthused Barker. "I cannot thank you guys enough. Major dream come true!"
Want in? We thought so.
If you've got the goods, you've got a real shot of getting a kick-ass rep and launching your writing career.
HOW IT WORKS
You submit your pilot or feature script to Coverage Ink for coverage during our Get Repped Now! period (March 15 – May 16, 2021.) 

If the reader rates your material a "consider" for script (roughly the top 3% of submissions) then it will automatically be elevated to the manager panel at the end of Get Repped Now! You will also have a chance to implement the notes from the coverage.

All submissions will receive full screenplay analysis, so if you do not score a 'consider' for script, your coverage report will detail why and show you how to hopefully get it into the zone. You may then, if you desire, resubmit a revised draft for another round of coverage before the Get Repped Now! end date. 
STANDARD COVERAGE COST:

$139 for features up to 120 pages (extra length fee applies over 120; 130 pages max)

$119 for 1-hr pilots up to 65 pages (extra length fee applies over 65; 70 pages max)

$109 for 1/2-hr pilots
This includes a detailed coverage report analyzing every aspect of the screenplay.
For more info please see our Get Repped Now FAQ page.
.



WHY MANAGERS?



Managers are writers' not-so-secret weapon. While many emerging writers naively focus on getting an agent, the truth is that it's the MANAGER who often gets you the agent. You don't generally land agency representation until there's some heat on you, and you're a known quantity in town, or you've won some major kudos at a huge festival like Sundance or are a Nicholl Fellow (but even then, maybe not.)
Managers are the ones who work with you on draft after draft, developing your craft and getting the script where it needs to be. Agents just don't have the time or interest. Managers generally have much smaller lists (say 10-25 clients,) while agents can have 70-80 clients. Do the math. Managers are the ones who strategize, put the team together, slip scripts to producers to start relationships and build the heat.
Most importantly, managers are more approachable. It's their job to find and nurture emerging writers.
That said, this time out, we're also including an agent, too — the amazing Halle Mariner from Agency for the Performing Arts.
HOW TO ENTER
1) Between March 15th and May 16th, submit your script to Coverage Ink for analysis. (Scripts submitted outside of the Get Repped Now window will not be eligible for the Get Repped Now promotion, but will receive CI's excellent coverage as always.) Go to Coverageink.com and click the SUBMIT IT button.
2) Fill out the release form/order form and then upload your screenplay or pilot. (Sorry, spec TV episodes of existing shows are not accepted for Get Repped Now, but we are happy to review them anyway if you like.)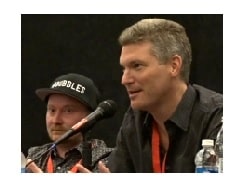 3) You will receive a confirmation from us and a PayPal invoice from CI for the screenplay analysis within 24 hours of submitting. We'll email you a confirmation upon submission with your estimated coverage delivery date. Please note that our usual 10-day turnaround for standard coverage can be substantially longer, often 4-6 weeks or more, during Get Repped Now, especially if you submit close to the deadline.
4) You will receive your analysis back on or around the promised delivery date. Unfortunately, due to the volume of submissions, we generally cannot handle any rushes or semi-rushes during the Get Repped Now! promotion.
Considers will be sent to the manager panel at the end of Get Repped Now, with our recommendations. We will also work with you to tighten and lock those submissions before sending them off to the panel. We will let you know what feedback we receive and if the rep requests so, put you in direct contact with them. 
5) Script submissions that score below consider ('Consider with Reservations' and 'Pass') will not be advanced to the panel, but you will have a solid road map for how to make your script rock in the form of a detailed, thoughtful and empowering script coverage report.
Good luck, everyone!

Coverage Ink's Jim Cirile and the Agents/Managers Hot Sheet – Live! Panel 2017
****** OFFICIAL RULES ******
You may submit as many screenplays and/or pilots as you wish before the Get Repped Now! final deadline – midnight PDT May 16, 2021.
There will be no further extensions past May 16th. Only scripts submitted by the deadline will qualify.
You must be the writer/writers of your submission, or else have an option or legal right to submit the material.
All scripts entered will receive full screenplay coverage from an experienced analyst from the Coverage Ink (CI) team. No screenplays are read by interns or students.
Only screenplays and teleplays that receive a 'consider' (or better) for script will be advanced to the manager panel. Scripts that receive a 'consider' for writer but do not receive a 'consider' (or better) for script will not be passed along. A "consider with reservations" is NOT a consider.
Offer ends at 11:59 PM of the GRN final deadline May 16th 2021.
Offer only valid on screenplays and teleplays submitted for coverage to Coverage Ink.com during the GRN period (March 15 – May 16th, 2021.) We are always happy to evaluate your work anytime, but Get Repped Now takes place in a short window of time for a reason.
Due to the volume of submissions, please allow 10-30 days (or longer) to receive your standard analysis back from CI during Get Repped Now. We will send you an estimated turnaround time when you submit. The closer you are to the deadline, the longer the wait will likely be.
Due to the volume of submissions, writers cannot select which readers will read their submissions during the GRN period. We will assign your material to whomever we think is the best fit for it based on genre, logline, and other info you provide, as well as our reader's tastes, strengths and availability. We will pair your submission with a reader who specializes in that style (we have over 30 readers.)
Offer open to everyone over the age of 18 worldwide where permitted.
All genres are accepted. We will match your submission with a reader(s) who is well-versed with your genre.
Feature scripts must be below 130 pages to qualify; TV pilots below 70 pages for a one-hour, or below 35 pages (single-spaced, single camera-style) or 55 pages (double spaced, multi-camera style) for half-hours.
Short film scripts, spec TV episodes of established shows, treatments and outlines, plays and manuscripts are not eligible for Get Repped Now (but we're always happy to take a look!)
Screenplay and Teleplay submissions must be in industry standard format. If you are unfamiliar with these, pick up a copy of the Coverage Ink Spec Format & Style Guide Edition X.
At the end of your screenplay coverage report, the script will be rated from 'pass' to 'recommend' for both script and writer. But only the "script" score counts towards Get Repped Now. The ratings are:

Pass
Consider With Reservations
Consider
Strong Consider
Recommend
The vast majority of scripts are a 'pass.' That doesn't mean they're not any good; it generally just means there's work to be done. Anything above 'consider' is pretty rare.
A 'consider with reservations' for script, while laudable, is not a 'consider' and thus doesn't qualify. However, that often means you're almost there — a little more elbow grease may do it.
Resubmissions: You are welcome to resubmit any script or pilot as many times as you like during Get Repped Now. We have several amazing clients who, in the past, started out with a "pass" for script, and then through incredible effort, utilizing the notes they received from Coverage Ink, revised the script, resubmitted by the deadline and got a "consider." Resubmissions are $10 off, so be sure to tick the box to get the discount.
If your script receives a consider, please allow a few weeks after the scripts are submitted to the panel to hear back. If they are interested, they will contact you directly. If they are not, Coverage Ink will get back to you with the reason they passed. What happens moving forward is up to them and to you.
If your script receives a consider, you will have the ability to do a polish on the script based on the coverage before submitting to the managers and agent. We strongly encourage you to do so.
Coverage Ink is NOT entitled to compensation for any deals that may occur with your material. We are merely providing an introduction and validation. We are not attaching ourselves in any way.
By participating in this offer, you agree to have your screenplay sent to our industry panelists for consideration for possible representation. If you do not wish to have your material sent out, just let us know.
The decision of whether or not to offer representation is up to the panel. There is no guarantee of any offer of representation.
Coverage Ink is not affiliated in any way with any of the companies whom the panelists work for.
Coverage Ink team members, partners and associates are not eligible.
Coverage Ink has a no refunds policy. You are of course entitled to disagree with your analysis, but that is not grounds for a refund. Follow-up questions are free up to appx. 10 minutes of the reader's time. For more in-depth follow-ups we're happy to schedule a phone, Zoom or Skype consultation with the reader.
RUSHES are not generally available during Get Repped Now.
Sorry, we do not allow swapping out of a new draft once you have submitted.
The decision of the Coverage Ink reader is final.

Since Since 2002, top-rated Coverage Ink has been a leading independent screenplay analysis/development service used by emerging writers, established scribes and management and production companies. Visit us at coverageink.com.