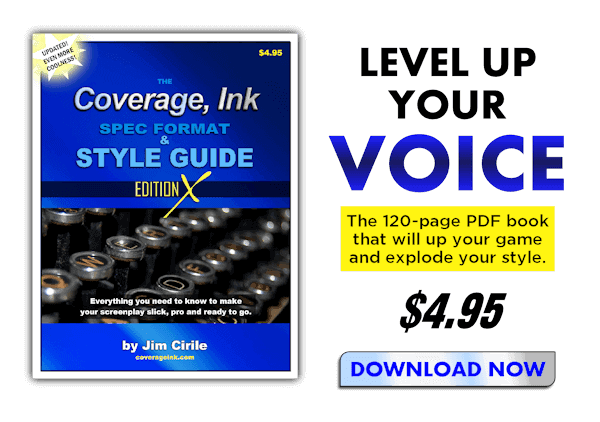 The CI Spec Format & Style Guide – The Most Essential e-book for Screenwriters from CI Founder Jim Cirile.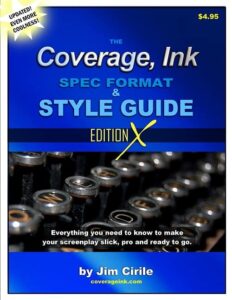 Most of us know the basic components of a script and how to line things up on the page. Heck, screenwriting software eliminates all the guesswork, right? Yeah, sort of. But it doesn't help you with things like panache or guide you towards a snappy, visual presentation; nor does it tell you what the industry is expecting — what's in style and what most definitely is not.
Well, fear not! Newly revised and massively expanded for 2021, The CI Spec Format & Style Guide Edition X will help you master screenplay format — and is chock full of tips and tricks to help even pro writers get shredded and amp up their voice. 126 pages jam-packed with examples and fun, the Guide is both comprehensive and brutally single-minded — you will be writing visually, down the page, showing, not telling, and using verbiage that lands like an uppercut to the jaw.
Geared for everyone from beginners to professionals, our CI Spec Format and Style Guide will help you bring it.

Only $4.95
Written by CI founder Jim Cirile, the Guide takes you through the ins and outs of screenplay format, from taking those first baby steps through pro techniques. Even seasoned writers will glean a ton from the Guide's abundant editing tricks.

Included is our very own Coverage, Ink. Magic Movie Formula and the CI Magic 1-Hour TV Pilot Formula. These handy little cheat sheets layout when and where every major plot event should happen according to myth (features) and per act (TV). Even if you hate formula, knowing the rudiments is crucial.
We guarantee you'll find the CI Spec Format & Style Guide Edition X invaluable, no matter what level you're at! The CI Spec Format & Style Guide Edition X: everything you need to make your screenplay slick, pro, and ready to go.
To order the Guide with your Coverage, Ink script analysis, just click the Submit It! tab whenever you're ready to submit your script. You'll be able to add it on your order form.
To order the Guide without submitting a script right now, click the buy now button.

Only$4.95