Every script submitted to a studio, agency or production company gets "covered." Readers are companies' first and best line of defense.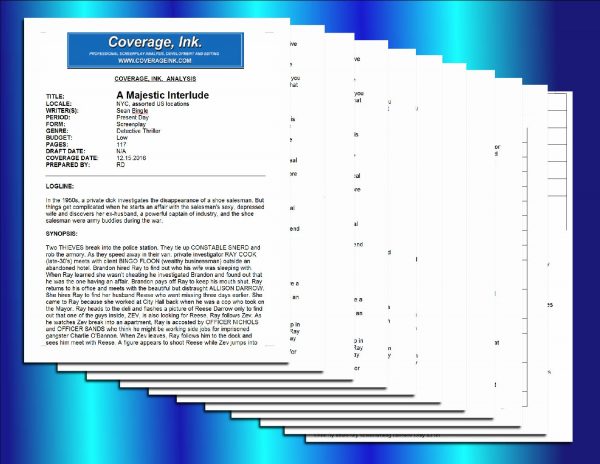 Coverage is simply a reader's report. A CI Standard Analysis consists of a logline, a detailed synopsis of the screenplay (this forces the reader to thoroughly understand the material before commenting on it,) then generally 3-6 pages of in-depth commentary and evaluation. The report concludes with a grid evaluating your screenplay from Excellent to Not So Good in 25 categories, including:
Main Characters
Minor Characters
Story
Premise
Plot Logic
Craft
Marketability
Dialogue
Finally, your screenplay is rated either "Recommend," "Consider," or "Pass," for both the script itself and for the writer. See the FAQs section for more details on coverage definitions.
At Coverage, Ink. we're happy to provide you samples from different genres, which will give you an idea of the depth of analysis you can expect.
Click below to View Coverage:
Want to see some new or different samples? Just contact us.