Howdy, fellow scribes! It is with enormous delight that we present to you our biggest and best manager panel ever for the upcoming GET REPPED NOW. Eight amazing managers from the top management companies in town. Want in? Sure you do!
Without further ado, here they are:
Jake Wagner, Good Fear
Lee Stobby, Stobby Ent.
Jeff Belkin, Zero Gravity
Zach Cox, Circle of Confusion
Micah Klatzker, Industry
Jesse Silver, Mindframe
Kendrick Tan, Madhouse
Michael Diamond, MGMT Ent.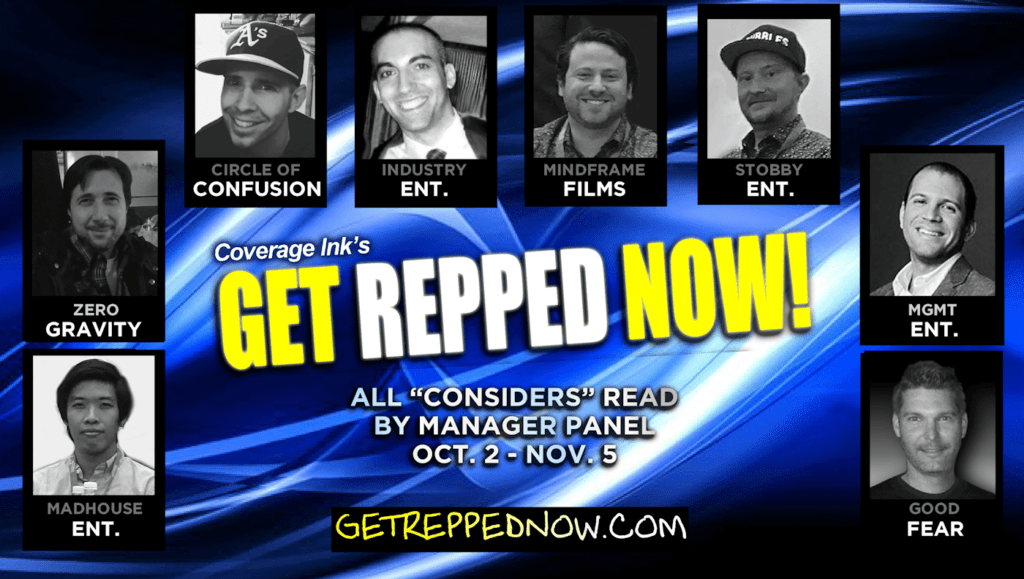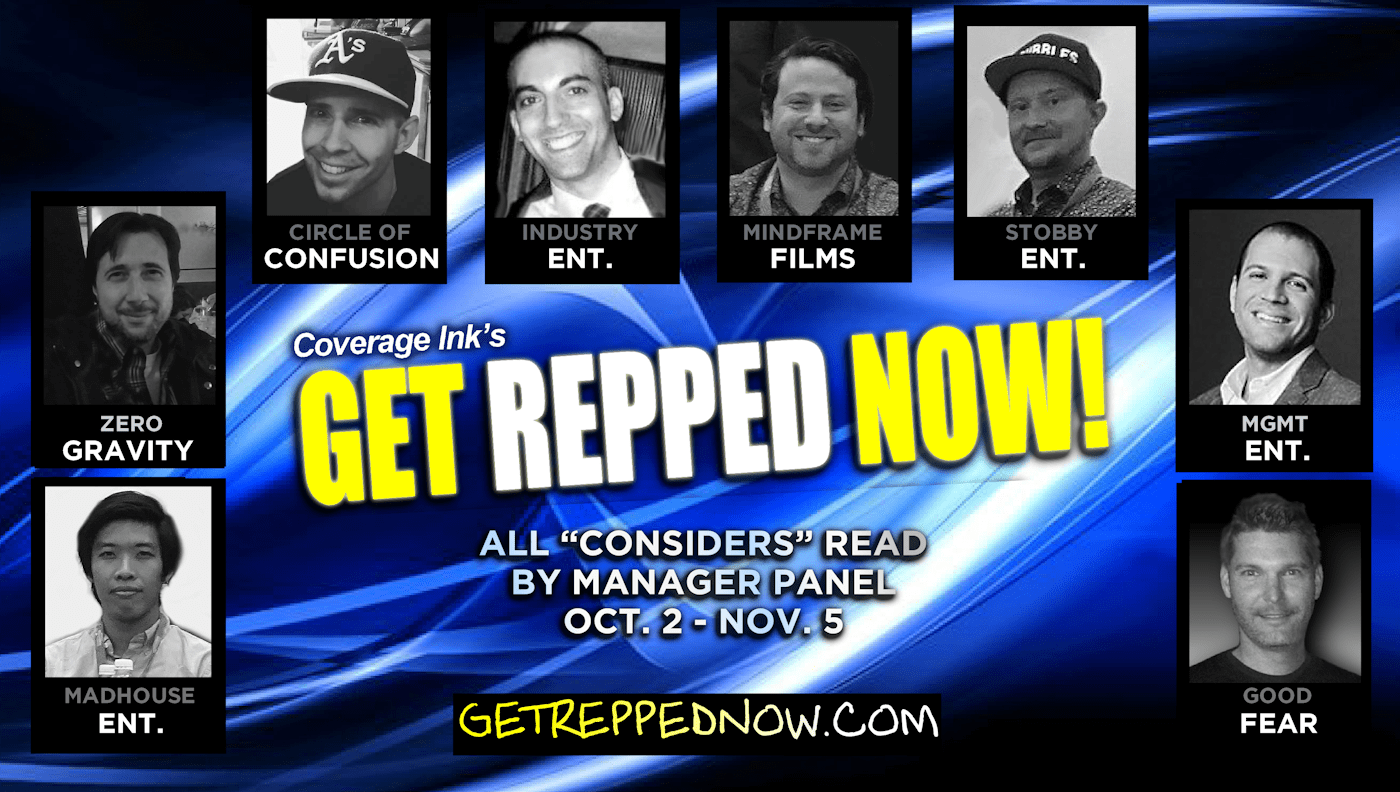 Check out their bios right here.
WHAT IS GET REPPED NOW?
Get Repped Now is a promotion by Coverage, Ink.  For a limited window of time (Oct. 2 to Nov. 4 ONLY,) all feature scripts and pilots submitted to us for coverage which score a "consider" or better for script, will be read by our esteemed manager panel.
At the end of every coverage report, the material is rated from "pass" to "recommend" by the CI Story Analyst, for both WRITER and SCRIPT. A "consider" for script is roughly the top 5-10%. The ratings are as follows:
PASS (the majority – doesn't mean bad, just not there yet)
CONSIDER WITH RESERVATIONS (this is NOT yet a "consider," but you're in the zone)
CONSIDER (Solid! But maybe still some tweaking needed)
STRONG CONSIDER (Awesomeness. Only about 1%!)
RECOMMEND (As rare as a unicorn. Drop everything and read this script NOW!)
Again, all scripts which score a "consider" or better for script ONLY will be read by our panel — roughly the top 5-10%, as judged by our industry expert CI story analysts (no interns or students here — only tested, smart, proven, story pros.) In essence, we're vetting the submissions for the panel, so that they know that the screenplays and pilots we send them are worth their time.  In the past, this has resulted in spec sales, several people getting signed and/or hip-pocketed, and many relationships begun.
Get Repped Now is not a contest, and there are no prizes and no "winners." We send ALL the considers we receive during the Get Repped Now window to our panelists. This might be 10-20 scripts. But keep in mind: you are not competing against anyone. Your goal is to impress the managers so that hopefully they see something in your writing!


WHY MANAGERS?
Managers are writers' not-so-secret weapon. While many emerging writers naively focus on getting an agent, the truth is that it's the MANAGER who often gets you the agent. You don't generally land agency representation until there's some heat on you, and you're a known quantity in town, or you've won some major kudos at a huge festival like Sundance or are a Nicholl Fellow (but even then, maybe not.)
Managers are the ones who work with you on draft after draft, developing your craft and getting the script where it needs to be. Agents just don't have the time or interest. Managers generally have much smaller lists (say 10-25 clients,) while agents can have 70-80 clients. Do the math. Managers are the ones who strategize, put the team together, slip scripts to producers to start relationships and build the heat.
Most importantly, managers are more approachable. It's their job to find and nurture emerging writers.
HOW DO I ENTER?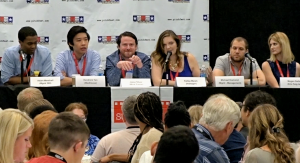 Simple. Just submit your feature script or pilot to Coverage Ink for coverage while Get Repped Now is on (Oct. 2 – Nov. 5.) Just click the big SUBMIT IT button on the main page. Or you can submit from GetReppedNow.com as well.
Every submission receives a full, detailed coverage report on your script. This is not a cursory read like many contests — one of our team of expert story analysts will read your script twice and then give you an insanely detailed report covering every aspect of the screenplay, generally about 10-15 pages worth!
So even if you do not get a consider, don't fret — you can always polish the script up and resubmit before the Nov. 5 deadline. In other words, we're telling you exactly what you need to do to get into the end zone. So take advantage and get polishing! The number one mistake writers make: sending out scripts we think are "there" that actually still need work. We all do it.
A thorough, empowering, story analysis from Coverage, Ink gives you the crucial intel you need to lick those story problems and make the script rock. And even if you don't score that consider this time out, you'll still have improved your script and moved that much closer to the goal, both for this piece of material and your writing craft in general. And that, friends, is invaluable.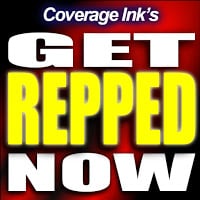 Please note that any submissions received outside of the Get Repped Now window will be standard submissions for coverage.
The decisions of the Coverage Ink Story Analyst are FINAL.
For all the rules and details, please visit: www.getreppednow.com.
So get cracking, folks! get those scripts as good as you can make 'em. We want bidding wars when we drop these submissions on our panel. That means your scripts need to be tight enough to bounce a shot glass off of.
Get ready to GET REPPED NOW.