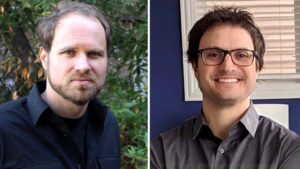 Congrats to CI story analyst par excellence Sal Cardoni and his writing partner Brian Rawlins. They just set up an untitled Vatican-based exorcism thriller at Paramount. Molly's Game producer Matt Jackson is attached. Check out the full article right here at The Hollywood Reporter.
SC is one our our most in-demand story analysts (now you know why), who has taken a step back from coverage in the last year to focus more on his own projects (the fool!) "I'm an overnight sensation 16 years in the making," he laughs. Now comes the fun part as his agent is fielding calls from all over town. And they are ready with a panoply of horror pitches. Let the bottled water tour begin.
Even better, the heat from this sale has now turned up the gas on another project they've been shopping, which has a big buyer circling.  Could a line drive double up the middle be in the works?
Cardoni joins a select handful of former and current CI story analysts whose careers have recently taken off including Derek Stuckert, Kevin O'Hare, Charley Dane, and Aaron Pope. Congrats again, Sal, and keep showing us all How It's Done.
— Jim C.