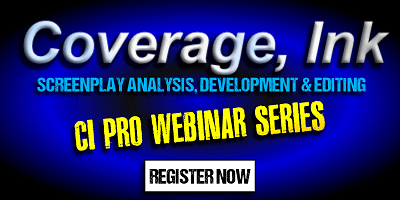 Fellow scribes,
Want to find out how to land representation? The best ways to get your material out there and get the attention of the industry? And how to stand out and cut through the noise so that your script gets the attention it deserves? Then join us Saturday May 12 from 10AM to 11AM PST for our first-ever CI Pro Webinar!
We'll be talking about all this and more in a rollicking and fun discussion featuring Coverage Ink partners Jim Cirile and Tanya Klein. We'll also take your questions and share insights from Jim's recent interviews with the top agents and managers in town for an upcoming article for The Wrap.
By the way… it's free! No upsell or anything. This ain't no time share presentation. Just an hour of advice, insight and tips.
We're limited to 100 participants, and there are only a handful of spots remaining, so please go here to register. We hope to do this every month, so join us and welcome!