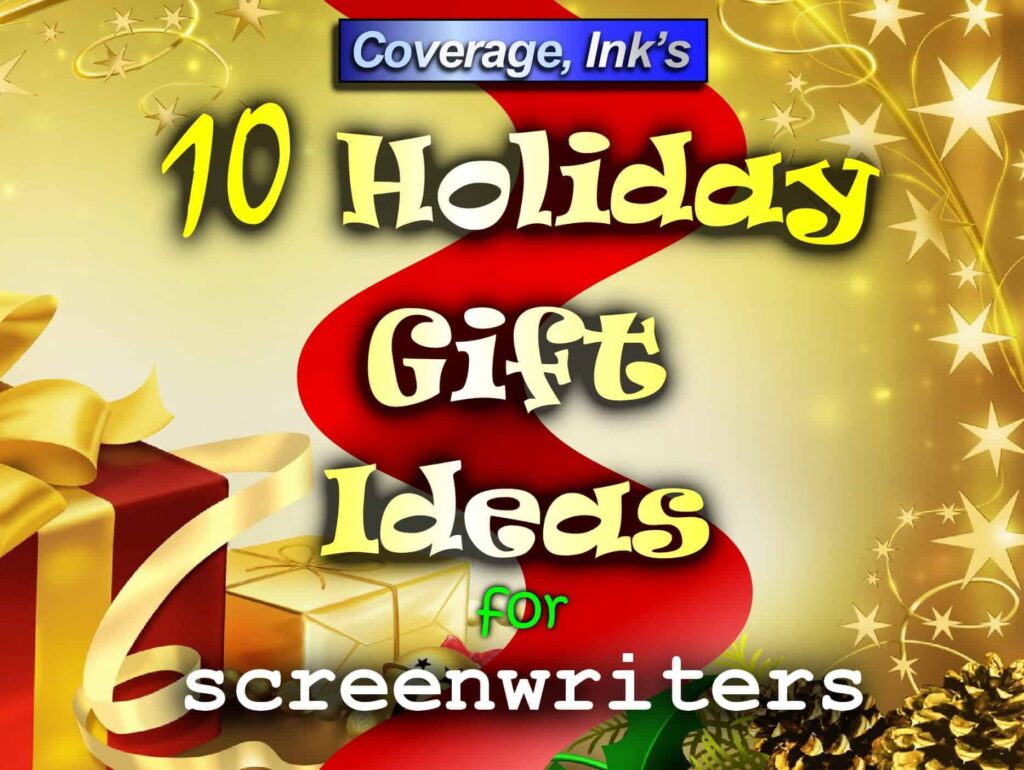 by Jim Cirile
Season's greetings, fellow scribes (as well as anyone kind enough to consider buying a screenwriter a gift.)  If you've been agonizing over gift ideas for that screenwriter in your life, look no further! We've assembled our top ten picks that the writer in your life is sure to love. We have a few returning choices from last year, plus a handful of fun new ones. And best of all, they're all (mostly) cheap!
We receive no kickbacks or financial remuneration of any kind for any of the products/services listed.

Deirdre Berry, $5.99, Amazon.com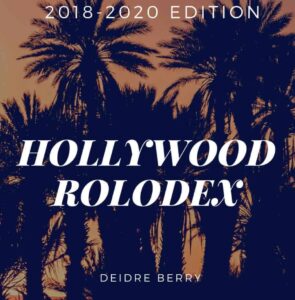 Sadly, our beloved "Hollywood Screenwriting Directory" by The Writer's Store owner Jesse Douma has not been published since 2017. Stepping into the breech is this new e-book by Deirdre Berry. The blurb says: "If you've finished your script, and/or polished your reality show pitch, this handy directory gives leads on where to submit to get your material optioned or sold, including over 3,000+ listings for Industry insiders including producers, directors, agents, and actors with their own production companies." Cool. And at 6 bucks, wotta deal!
Unfortunately, it's Kindle only :/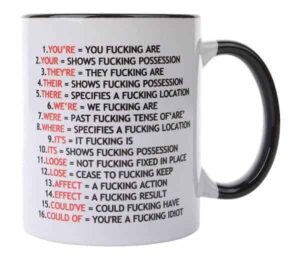 $11.98, Amazon.com
We think this mug should come with every copy of screenwriting software sold. Remember, folks, we're writers — that means people are judging you on stuff like grammar. Kinda goes with the territory. You wouldn't become a surgeon and not really understand the basics of anatomy, would ya? Wait, you would? Hmm… Anywho, this is a fun way to stay on top of these common bugaboos.
For extra credit, fill it with our honorable mention below!

$29/95/mo., or $139.95/yr, https://www.grammarly.com/premium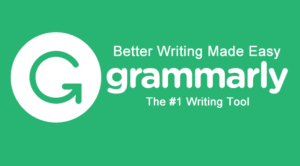 Grammarly is an amazing free utility, and we highly recommend it. But for writers, Premium is where it's at. Not only will Grammarly Premium suss out the grammar mistakes, it will actually improve your writing with style and vocabulary suggestions. This is the number one problem we see with the craft of screenplays we read: oftentimes the style is just not there. Grammarly Premium will help elevate your game into the big leagues, giving your writing that crucial edge to help it stand out — and showing you the weaknesses in your writing so you can improve at the same time. Essential for non-native English writers!
7) COOL RESEARCH BOOKS FOR WRITERS
$19.99 etc., BN.com, DeltaPress.com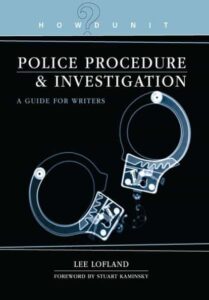 So you're thinking of writing a cop script. Know what you should do first? TALK TO A COP. We're baffled by the amount of scripts we see where writers don't know the first thing about the topics they're writing about. Not only will interviewing people who do those jobs help get the details right and imbue the script with verisimilitude, but it may well yield cool new ideas and twists you would have even imagined.
But for gift purposes, just head on over to Barnes and Noble, or for the real underground stuff, to our pals at Delta Press. Here are just a few books out there which will help writers get a clue — there are plenty more!
$99/yr, TrackingB.com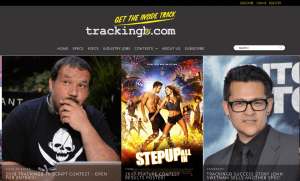 We here at CI have been fans of Tracking B for a long time. TrackingB.com is an industry tracking board used by Hollywood execs, agents, managers to share information about industry jobs, who's looking for what kind of material, what specs are going out/selling, etc. — essential info which will help writers understand how the biz really works and thus be able to pounce on opportunities as they arise.
But perhaps more importantly, Tracking B also runs two annual contests (TV and features) that regularly break new talent. In fact, their track record for getting writers signed to top agencies is unrivaled. Their 2019 TV Script Contest is now open for entries (separate entry fee required for contests.) At Tracking B, it's all about the access.
$90/class or $180/year for All Access Pass, MasterClass.com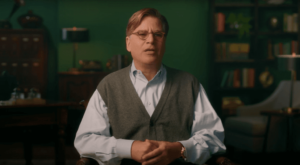 Want to spend some quality time with A-list screenwriters/showrunners Shonda Rhimes and Aaron Sorkin? How about David Mamet, Steve Martin, or Judd Apatow? These are just a few of the insanely bad-ass mentors available to you. If you really want to get into the heads of these creators, MasterClass is the way to go. Each MasterClass is 20-30 hours of online video instruction with these bonafide masters showing you all their tricks. Pretty slick.

Bear in mind that the classes are more for beginners to intermediate-level folks — we didn't really take much away from the Aaron Sorkin class, for example (see our full review here.) But still, it's an amazing deal, and if you can afford it, their $180/year All Access Pass for every course on their site is one hell of a deal — they offer folks as diverse as the amazing jazzman Herbie Hancock to unctuous Turdblossom himself Karl Rove.
4) SAVE THE CAT! STORY STRUCTURE 3.0
$99, SavetheCat.com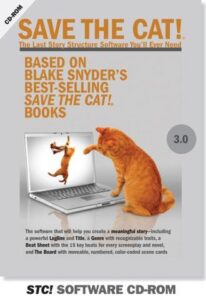 The late, great Blake Snyder's book "Save the Cat!" is mandatory reading in Hollywood, and many contemporary screenplays are based on its famous structural template (which itself is based largely on myth and Aristotle's "Poetics.") Some eschew this template as "formula," but the reality is, many of the screenplays we review would be better off if they adhered more closely to Snyder's sage guidelines. 
Now along comes STC Story Structure 3.0 from the Master Cats at STC. This Mac/PC software forces you to develop and structure your screenplay according to their guidelines. It literally will not allow you to take shortcuts — you must detail your character arcs, think through your midpoint twist and all is lost moments, and so on, and will not allow you to progress until you do. It both holds your hand and acts as the stern screenwriting taskmaster we all need. Get your structure on. 
3) WRITING MARATHON with PILAR ALESSANDRA
$60, OnthePage.tv

Everyone knows screenwriting guru extraordinaire Pilar (and if you don't, please haul thine ass over to her website.) She has some fantastic books and classes well worth checking out. But what really intrigues us is her monthly Writing Marathon.
For only 60 bucks, you get up to 15 hours of concentrated writing time, plus guidance and consultation from Pilar at the On the Page writing studio in Studio City, CA. With frequent scheduled breaks, this is a great way to not only make explosive progress in your writing but also to network and maybe make some new friends. Did we mention the unlimited coffee, tea and candy? We'll be there next month! Limited to 20 writers per session.
$45, LiteratureandLatte.com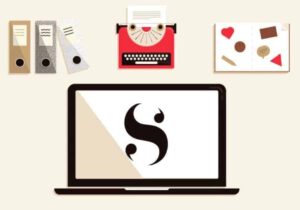 Sure, it's designed primarily for novelists, but Scrivener is a wonderful tool for screenwriters as well. Screenwriting software like MovieMagic Screenwriter and Final Draft are excellent tools, but Scrivener makes breaking story SO much easier. Think of it as a big, electronic corkboard that you can pin your scene ideas to in the form of index cards, then move them around easily. 
Scrivener allows you to keep all your notes, research, articles, even audio and video files in the same project document for easy reference; its Outliner tool helps you develop story and sketch in ideas, viewing everything from 10,000 feet so you can always see the big picture; DocuComp allows you to easily compare different drafts, and it has full screenwriting format mode as well. Pretty spiffy for 45 bucks – but it also works across all your electronic devices (Mac/iOS/PC) and outputs to industry standard software like Final Draft. Check out their free 30-day free trial.
1) COVERAGE INK GIFT CERTIFICATE
$129 feature, $109 pilot, $59 1-hr consultation
Want to show that special writer in your life you care? Then pick up a gift certificate from Coverage, Ink, the industry experts. We'll figure out what's working (and more importantly, what isn't) and help get that script back on track with a thorough, detailed analysis. Whether a pilot, a feature, a bible, pitch doc, what have you, we'll help ensure the material gets it done.
CI also offers mentoring and consultations at $59/hour. A 1-hour consultation could be just the ticket to ensure that your writer is pointed in the right direction, knows how to elevate their writing and the best way to approach decision makers. We can work through script notes with the writer, act as a sounding board, and offer advice on how the writer can best advance their career goals.
HONORABLE MENTION:
$49.95, https://www.totalwine.com/spirits/brand/writers-tears-irish-whiskey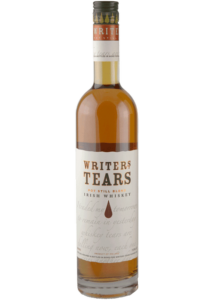 This stuff ain't cheap, but damn if it isn't worth it. Let's face it, rejection is part of the job description. So take the sting out of the more painful ones with a slug of this exquisitely smooth imported Irish whisky. (Whisky fans: strictly speaking, it is a blend, but only contains pot still whiskey and malt whiskey — no grain whisky.)
Writer's Tears won the award of Best Irish Blend Under €50 in the 2013 Irish Whiskey Awards as well as the gold at the International Spirits Challenge in London. May not be shippable to some states, but if you are in CA, you can pick up a bottle at Total Wine + More in Redondo Beach (Aisle 4!) Or visit the distillery and check out all the other Writer's Tears, such as Redhead (Single Malt) and Cask Strength (Hel-LO!)

Wishing all of you a wonderful holiday season.