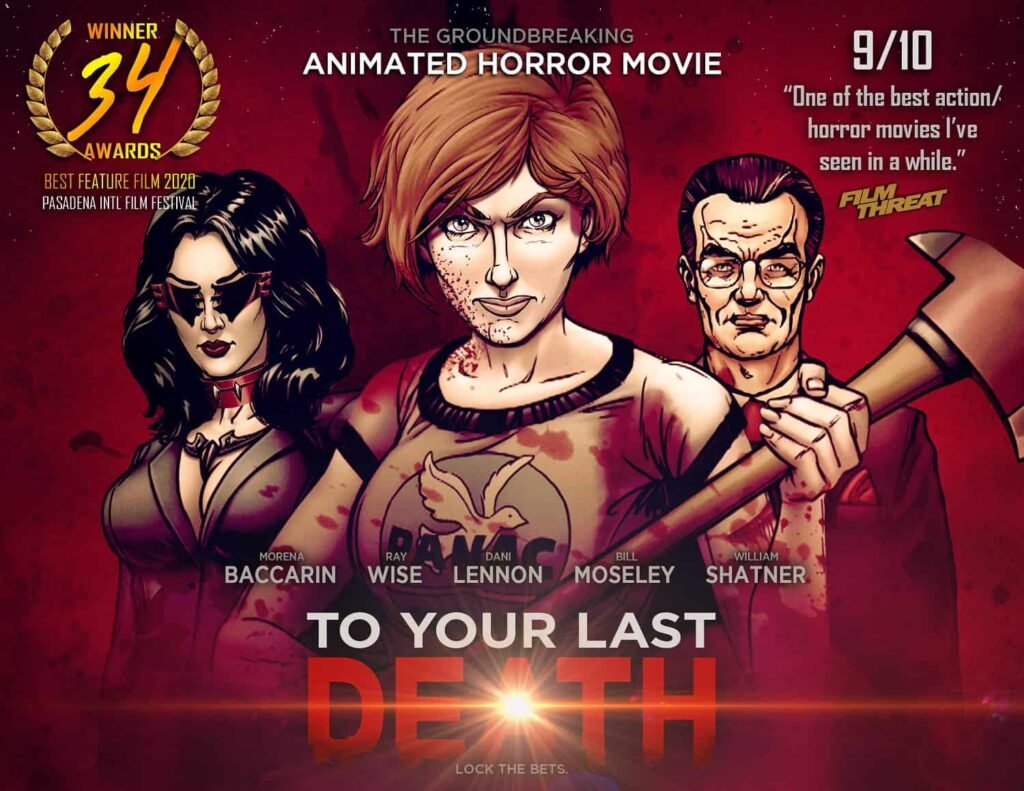 Feb 19, 2021 – LOS ANGELES – Coverage Ink Films, a division of CoverageInk.com, has announced that their independent, 2-D animated horror film TO YOUR LAST DEATH is the #2 most award-winning horror feature film of 2020. The film picked up 34 awards on the festival circuit, including Best Feature Film from Pasadena International Film Festival, Best Director from Horrorhound, and Best Horror Feature from Phoenix International Film Festival.
TO YOUR LAST DEATH may be the first American-made, 2-D, hand-drawn animated horror film. It stars Morena Baccarin (Deadpool) as The Gamemaster, a mysterious entity with the ability to turn back time. The film also features the voice talents of Ray Wise (Twin Peaks, Fresh Off the Boat) as a billionaire industrialist sociopath bent on torturing his family for their transgressions, horror icon Bill Moseley (3 from Hell, House of 1000 Corpses) as Pavel, a horribly scarred mercenary, and features a star-making performance from Dani Lennon (The Love Witch) as protagonist Miriam, the only survivor of a night of terror who is sent back in time to rescue her family.  Providing Rod Serling-style commentary throughout is none other than the Captain of the Galaxy himself, William Shatner.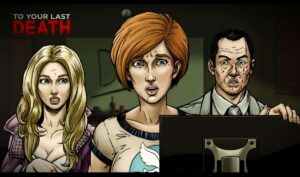 "It's just incredible," says cowriter and executive producer Jim Cirile. "For our little animated movie to go head-to-head against so many other amazing live-action feature films — and do so well — is a testament to the hard work of our amazing team who put five years of blood, sweat and tears into making this movie." Cowriter and executive producer Tanya Klein says, "We're thrilled. We didn't expect this. At Coverage Ink, we always preach the mantra of 'one more draft.' This script took 27. Had we shot draft 26, or draft 13, god forbid, we probably would not be where we are today."
TO YOUR LAST DEATH features hand-drawn cel animation in a style reminiscent of the shows "Archer" and "Metalocalypse." According to Klein, the film is "extremely violent, but it features well-drawn characters and definitely has something to say. There's political bite to it, if you're looking for it. But it's not for kids." The film premiered at Frightfest UK 2019 to great notices, and was released in the US and Canada in 2020. The film was designed by artist Carl Frank, best known for his iconic paintings for Dungeons & Dragons as well as Magic: The Gathering. Music was composed by René G. Boscio, and sound design was by Emmy winner Michael Archacki, both of whom won awards for their work on TO YOUR LAST DEATH.

"People are expecting one hell of a follow-up to this now," says Cirile. "Yeah, we have a few ideas."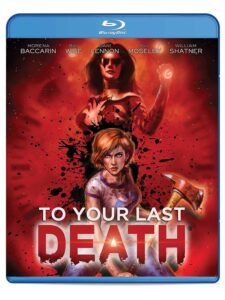 TO YOUR LAST DEATH was produced by Cindi Rice, Jason Axinn, and Paige Barnett, and was directed by Jason Axinn. It is currently streaming in the US and Canada on iTunes, Prime, Vudu, and other services, and it is available on Blu-Ray at most major outlets.
For more information: http://toyourlastdeath.com
#ToYourLastDeath