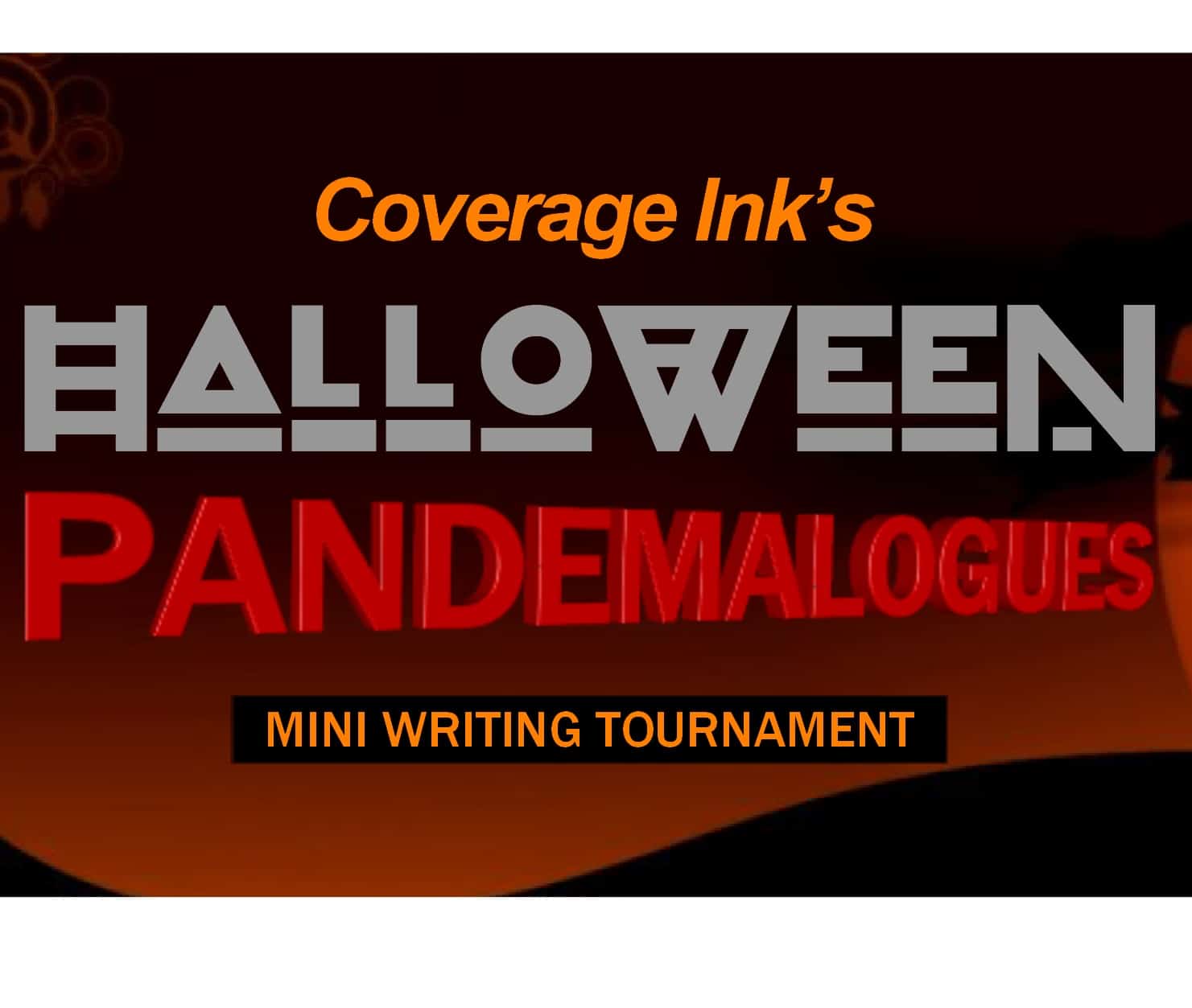 Folks who've participated in our free Pandemalogues Writing Tournaments this year know the name Scotty Cornfield. Mr. Cornfield is a former homicide detective (for real) and has won and placed in these competitions more than a few times. Mr. Cornfield always delivers on the subtext in particular — he's a master at writing on two levels; what is being said, and what is going on under the surface. An essential skill the have as a screenwriter. This time out he's won a CI Standard Screenplay Analysis  ($139 value.) And you can read his winning scene "Quid Pro… Whoa!" below.
The prop group he chose: swinging clown doll, inflatable grim reaper, a broken-down old Harley Fat Boy
Thanks to Mr. Cornfield for permission to post it!
Want to get in on the next free tournament? Just sign up for our mailing list at www.coverageink.com.
QUID PRO… WHOA!
by
Scotty Cornfield
FADE IN:
INT. MAX'S HOUSE – NIGHT
MAX (50s and loving life), leans over his kitchen table.
Buries a carving knife deep into the pumpkin.
                                 MAX
                    Die, pumpkin, die.
His grandson BRADLEY (12) and granddaughter SLOAN (11) sit
across from him. Stop carving their pumpkins.
                                 SLOAN
                        (in mock pain)
                    GRAMPS! Tell us.
Flashes an irresistible smile.
                                 SLOAN
                    Puh-lease!!!!!
                                 BRADLEY
                    C'mon. You know which story.
Max settles into his chair.
                                 MAX
                    OK. If you really want to hear it
                    again this year…
EXT. DICK'S HOUSE – DAY – TWENTY YEARS EARLIER
RICHARD "DICK" KILMER (40s), arms crossed, stands in his
front yard. Aims his permanent scowl at his next door
NEIGHBOR as she tenderly plants flowers along the sidewalk.
She turns and spots him. Waves enthusiastically and heads
into her garage. Dick grunts. Hops into the tow truck in his
driveway and fires up the engine.
As he exits, he drives over her new plants, hops the curb and
catches her shocked look in his rear-view mirror.
                               MAX (V.O.)
                  He lived across the street and his
                  name was Richard, but we all called
                  him "Dick" because he was a…
                              SLOAN (V.O.)
                  — A what, Gramps?
                              MAX (V.O.)
                 The thing about Dick is that he
                 seemed to hate everyone.
MONTAGE – DICK BULLIES THE NEIGHBORHOOD
— Front yard. Dick adjusts a NO TRESPASSING sign on his
picket fence when a soccer ball flies into his yard.
Dick picks it up as a KID runs toward him. Arms outstretched.
Dick smiles. Throws the ball over the kid's head and into
a passing garbage truck.
— Dick's front door. He uses his foot to push a GIRL SCOUT'S
wagon full of cookies off his porch as he slams the door.
— Dick's curb. He places a wood plank under the tire of a
car parked in front. Several nails point right at the tire.
END MONTAGE
EXT. MAX'S DRIVEWAY – DAY
Max's Harley Fat Boy sputters as he cranks the throttle.
                               MAX (V.O.)
                   It was kind of a disaster, but it
                   was mine and I loved it.
                               DICK (O.S.)
                   You'll never get it right.
Max spins around. Dick, arms crossed, sneers.
                               DICK
                   I can do a lot better, but I need
                   the parts; so I'll make you a deal.
                               MAX (V.O.)
                   He always made fun of my bike but
                   for some reason, he wanted it bad.
                               MAX
                   It's not for sale.
Dick steps in close to Max.
                               DICK
                   You're gonna give it to me. If you
                   don't, I turn in your wife to
                   Immigration.
INT. MAX'S HOUSE – NIGHT – PRESENT DAY
                              SLOAN
                    Why was he gonna turn in Grandma?
                              BRADLEY
                   'Cause she's from Canada.
                              SLOAN
                   So?                             
                              MAX
                   I was mad, but I didn't tell
                   Grandma. Instead, that night I —
                              BRADLEY
                   — messed up his Halloween stuff.
                              MAX
                   Right. I put funny signs on his
                   scary clown and grim reaper.
EXT. DICK'S FRONT YARD – NIGHT – FLASHBACK
The scary clown sodomizes a bent-over grim reaper.
INT. MAX'S GARAGE – DAY
Max unwraps and tries on a "Kilmer's Towing" shirt.
                             MAX (V.O.)
                   Two days later, I put my plan into
                   action.
He fills water balloons with gas.
                             MAX (V.O.)
                   I loaded my motorcycle with eggs…
He places the gas balloons into the saddle bags.
                             MAX (V.O.)
                   Wore the tow truck shirt I ordered.
EXT. HELL'S ANGELS CLUBHOUSE – NIGHT
Max throws the last balloon over the fence. Gas coats several
motorcycles. Tosses a flaming lighter onto the gas puddle.
The bikes instantly ignite.
Max jumps onto his Fat Boy. Starts it up and revs the engine.
Three burly BIKERS race out of the house. Max peels out.
                            MAX (V.O.)
                   The next day, I gave Dick my
                   beloved Fat Boy. I almost cried.
EXT. DICK'S FRONT YARD – NIGHT
                            MAX (V.O.)
                   It didn't take long for them to
                   find Dick. They egged his house
                   nonstop. They really got it good.
Two Harleys drive slowly past Dick's house. Gunshots take out
Dick's windows.
EXT. KILMER'S TOWING – NIGHT
                            MAX (V.O.)
                   They even egged his business. It
                   got so bad that Dick moved out one
                   night and was never seen again.
Several Harleys stop and shoot up the business.
EXT. DESERT – NIGHT
A group of BIKERS finish burying something. One of them hops
on what used to be Max's Fat Boy. They ride off.
INT. MAX'S KITCHEN – NIGHT
                           SLOAN
                  Even though you lost your Fat Boy,
                  you did the right thing, Gramps.
                           BRADLEY
                  Just like you taught us, when they
                  go low —
                           MAX
                  — You go high. Lots higher.
THE END