"When you get great notes, it's like, "Of course! Why didn't I think of that?" It gets you thinking out of the box, becoming more creative and ever tighter with your writing. That's what good coverage is all about."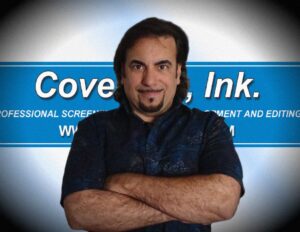 <fontsize=14>Jim Cirile is a Los Angeles-based writer/producer/consultant. Originally from New York, where he wrote and associate produced low budget horror movies such as Lurkers and the infamous, unreleased punk/jazz comedy Banned,he moved to LA at the top of the '90s and worked for years as a production assistant and coordinator on TV shows like "Totally Hidden Video" and "Playboy 360" as well as studio features like "Side-Out" and "Dutch." He was repped by William Morris and later Innovative, as well as several management companies. Credits include a trio of craptastic actioners for CFP/Lionsgate: Bounty Hunters, Hawk's Vengeance, and Hardball. Other noteworthy but writing assignments include rewriting the Coen Bros. on an unproduced mob comedy, and an eco-action/thriller for Lionsgate.
Jim wrote the Agent's Hot Sheet column for Creative Screenwriting for a decade, one of the magazine's most popular features. Every issue featured a panel of top literary agents, managers and producers about industry trends and sharing that sage guidance with writers. He also wrote regularly about the biz and was the agent/manager expert for Script magazine. Jim and his partner Tanya Klein founded Coverage Ink Films, with a focus on ballsy geek genre movies with biting social content. Productions include award-winning, gritty superhero short Liberator starring Lou Ferrigno, Peta Wilson, Michael Dorn and Ed Asner, and the animated horror feature To Your Last Death starring Morena Baccarin, Ray Wise and William Shatner, the #2 most award-winning horror movie of 2020.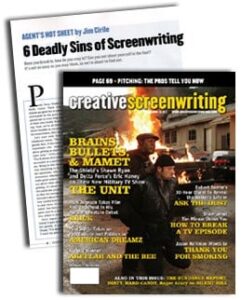 Jim hails from SUNY Purchase with a degree in fine art/animation, and has a certificate from the UCLA Professional Program in Screenwriting. He applies UCLA techniques to his analysis along with a healthy helping of myth, Save the Cat! and TLC. Above all, he tries to empower in his notes, and will never make anyone feel foolish or ashamed or belittled. Rather, he feels writers should be applauded for seeking guidance. Screenwriting is a craft. It can be learned. All it takes is a great attitude and a willingness to absorb, and of course to spend a LOT of time rewriting.
If you select story analysis from Jim, you'll experience a one-of-a-kind, over-the-top-detailed coverage experience — generally 20-25 pages of helpful, in-depth feedback along with a frank assessment of their script's marketability as well as the entire script marked up. As well, Jim personally supervises every Coverage, Ink screenplay analysis to ensure quality, tone and consistency, and acts as editor/polisher on every CI Pro rewrite, ensuring pro quality on all deliverables. He is available for phone conferences as well as script doctoring/polishes as well. Please contact us for more info.
Click to view Jim Cirile Coverage Samples:
Contact Us…
[contact-form-7 id="6″ title="Fontpage contact"]